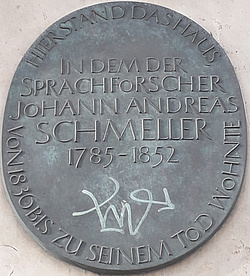 The Bavarian Academy of Sciences and Bavaria's Dialects
In 1816, Johann Andreas Schmeller began work on the project of a dictionary of the dialects of the Kingdom of Bavaria. The project was proposed to him and supervised by the Royal Bavarian Academy of Sciences, by command of the Crown Prince (and later King) Ludwig I himself.
Publication ensued from 1827 to 1837. The second edition was published after the author's death between 1872 and 1877, revised by the Nuremberg scholar G. Karl Frommann.
Dialect as a topic of public interest
It was in the C. 17th that learned circles began to take an interest in dialects. Texts written in dialect started to appear.
In 1689, the Regensburg mayor Johann Ludwig Prasch published a "Glossarium Bavaricum", a dialect glossary of about 600 words – the first dictionary ever of a German dialect.
Subsequently, a whole series of so-called "Idiotica" appeared, collections of words special to Thethe dialects.
The first Academy project of the type current today
The Bavarian Academy of Sciences had previously concerned itself only with projects originating among its own learned members. Schmeller's commission to publish a Bavarian Dialect Dictionary was the first time the Academy employed a scholar from outside the learned society to undertake a specific project. The Academy also funded the project.
Thus Schmeller`s Bavarian Dictionary can be seen as the first proper research project at the Academy. Many more have followed, and to this day the Bavarian Academy of Sciences promotes long term projects in the fields of basic research.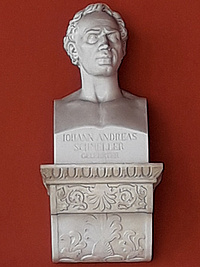 Schmeller's posthumous reputation
Schmeller's "Bavarian Dictionary" is more than just a work of stringent philology. One can browse through the dictionary and find interesting information on the language and on ordinary everyday life of the age. Even today, it has a broad audience, and it is still in print and on sale.
And Schmeller's name is held in high regard: he has a memorial plaque in the Walhalla Hall of Fame and his bust stands in the Munich Hall of Fame and on the Market Square of Tirschenreuth, the town of his birth. There are Schmeller Streets, so for example in Munich, and three Schools in Bavaria bear his name.